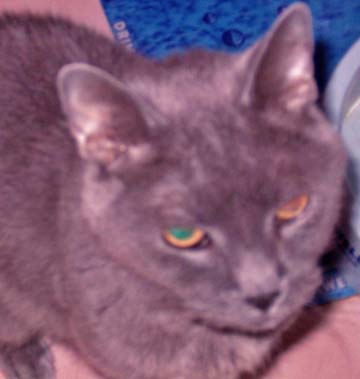 BLUE is an elderly grey cat whose owner died. Blue was much loved by this person but the remaining family just wanted to "throw that old cat out." Can you believe it? At 20+ years (and indoor only), Blue would never have survived the streets or the cold winter, nor should she have to. When we received the call, there was no question that we would take her in... she hadn't been given her thyroid medicine for some time, and looked like she hadn't been fed properly either. She is now back on her thyroid medication, although still being regulated and even gaining a little weight. After just over a month, Blue has settled in and "bonded" with one of the other elderly cats in the home, 18-years-young Khafret. Together, they act like little old sisters (they look so much alike!), but seem content together and that's all that matters.
Blue will always require updated testing from time to time, to ensure her well-being and that no other underlying health conditions crop up. We want to help Blue have more good years ahead of her.

ABIGAIL is an American Curl cat. Found abandoned in a shelter, Abigail is a 12-year-old kitty who was once someone's pet, but as a senior who should have been loved and cared for in her senior years, found herself without a home or family. She is now in our Foster Care Sanctuary program. But Abigail's life on the street has left her with health issues and her medical costs are rising. Please help by sponsoring Abigail. Read more about Abigail...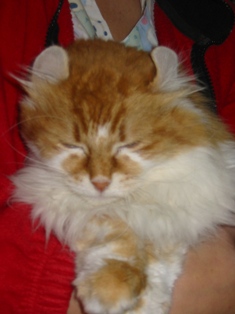 DAPHNE is an American Curl cat. As a breed rescue for the American Curl, a call from an upstate shelter started a flurry of activity to have this 12+ year kitty and her sister, Snoopy, transported down to us. Then, the next day, we received the information that Snoopy was in severe renal failure and had to be euthanized. We were devastated. Daphne and Snoopy had been together since kittenhood, and now Daphne was alone without Snoopy and without the only family she had ever known. We knew we had to get her to us as quickly as possible. Through the Wheels of Hope program of the Mayor's Alliance for NYC's Animals, she arrived at our veterinarian's office for a complete check-up. She was matted to the skin, had a URI, was depressed, not eating or drinking, and very lethargic. She is arthritic so it's hard for her to jump and do certain things; she's in pain at times, and can be vocal about it (understandably), but overall doing well.
We persevered to help her adjust. Daphne has been through a lot, but she is flourishing in her Foster Sanctuary, and we still can't understand why anyone would dump this sweet affectionate little kitty just because she's a senior. We don't care -- we love her!

LOGAN is the sweetest little kitty. He's a young American Curl cat. We pulled him from the NYCACC with multiple pelvic fractures, spinal injury and nerve compression, which is causing limited use of one of his rear legs. We don't know how he got his injuries. Despite all of this, he is one happy kitty, active and gets around pretty well. He is safely in foster right now receiving lots of love and attention.
Logan is looking for sponsors right now, as medical and surgical expenses will be quite high. Please consider becoming a monthly sponsor, or making a one-time donation towards Logan;s care and medical costs. Be one of his heros by contributing today!